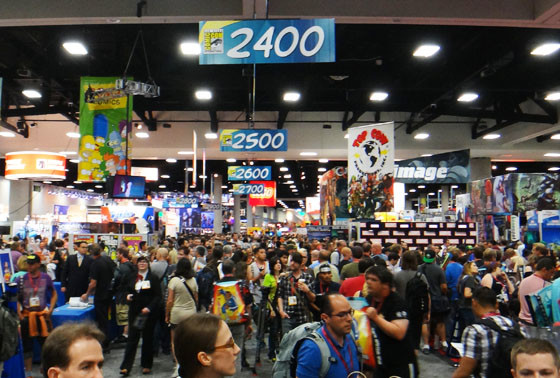 A week from now, everything you're anticipating this week will be nothing but a sweet and/or horrible memory. Hopefully by that time your feet will have healed and you'll be back at work, slaving away to pay off those insane credit card charges you racked up at San Diego Comic-Con.
I have to admit I've been pretty silent these past few months leading up to the Big Show, mostly due to personal reasons, but I will be back at SDCC in full force this year. I'm still selling books on this website, although if you haven't bought one yet, I would suggest nabbing the digital edition for your mobile device or phone, because a print version won't arrive until long after SDCC 2015 is over. And don't forget to download the FREE supplies and expenses checklists while you're there! And to be clear, I haven't updated the book from last year, as it's still 100% relevant to this year's show and should help you navigate the floors and halls as deftly as possible.
As for the show itself, what can I say that hasn't been said before? I've literally taken a break from packing at the 11th hour to write this because it wouldn't be Comic-Con for me if I didn't share something with you, the readers and oh so supportive folks who give me encouragement through your feedback and sharing your experiences each year. Since I'm not in full on promotion mode for the book this year, I can only offer you a few extra tips to make your experience better this year.
Get the latest updates from the con from the Unofficial SDCC Blog gang. – Yes, I'm plugging another website that isn't my own. I've been reading their updates and they've even shown me stuff that that I didn't realize was happening until I read it on their site. Assuming I get back up to full speed next year with SDCC Survival Guide and a few other related projects that might make your WORLDWIDE con-going experience much better, I will then recommend both SDCC Blog and myself to be your top sources on all things SDCC 2016. But until then, those guys are your best bet when it comes to the latest news for SDCC 2015.
Follow ME Too – Of course, you can still follow me on Twitter @SDCCSURVIVAL for any of the latest bits of news I find throughout the week, including when swag or celebrities show up in surprising places, giving you the heads up if you want it. Same goes for the SDCC Survival Guide Facebook page and Google+ page. Look for pics and all sorts of potentially useful nonsense as the week progresses, including information on the Parking Lot Holy Grail that I've been using for over 10 years. Those of you who have the book will know what it takes to gain that knowledge and make sense of the cryptic message I'll be sharing either Tuesday night or Wednesday morning.
Try Something New This Year – Maybe try not standing in line all night to sit in a room all day. I know such a thing is blasphemous for the die-hards to hear. I might actually skip Hall H this year for the first time ever, just because I really don't have friends who want to make the 24 hour sidewalk sacrifice needed to get into that hall. Of course, if I find an alternate means to get in that doesn't involve lines, you might just find me sitting beside you, except this time without the dew of the bay glistening on my skin from pulling an all-nighter along the water (again).
It's Still About Comics – Along the lines of trying something new, I strongly suggest in appreciating the artists and comic creators that are there. I know you might only be there to get Supernatural cast autographs or nail down those sweet Hasbro exclusives or just take pictures of sexy cosplayers, but comics really is still at the heart of San Diego Comic-Con — even in 2015! I promise you that you'll find something pretty cool at the Small Press booths or Artist Alley. I know I say this all the time, but there is a comic book out there for everyone. Even your mom.
Get Out While You Can! – Remember, the show isn't all about standing in line or cramming yourself into the Exhibition hall for exclusives that disappeared five minutes after the doors opened. There are events and parties like Nerd HQ happening all around the city each night. See Flo Rida perform at the MTV party. Run for your life from the Walking Dead at Petco Park and at the Hilton Gaslamp hotel. Maybe just grab a drink and relax with friends in a quaint pub or fish taco joint a few blocks from the madness. The show can get so intense and so busy that we forget to breathe. I'm heading up a night early just so I can mentally prepare myself for this week, take some random pictures and park my car for the week at a fraction of the cost my hotel is charging. I know not everyone has that luxury with timing and expenses being so tight for many of us, but if you can't take a break to look at where you are and what you're doing, you might not realize that San Diego Comic-Con is a pretty amazing experience and not a soul crushing 5 day race to the finish. Plus, this might be your only chance to do it, because you might not get in next year (sorry, didn't mean to take that dour left turn).
When it's all over, I want to hear about your experiences. Show off the swag you scored! Let me know if you were victorious in getting into Hall H or one of the Conan shows (I'll be there Thursday!) or just let me know if you had a good time and why. And if you learned something new about the con that might help people out and you want to share, this is the place to do it! I always hear these stories about how horrible the experience of just getting to Comic-Con can be. I want to hear if it was all worth it for you.
Oh, and one more thing: You might want to avoid Qualcomm stadium on Thursday. Two words: One Direction.