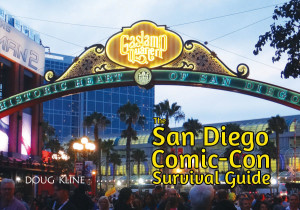 If you've ever been to the San Diego Comic-Con in the last few years, then you know to expect the unexpected. But there are some things that never change: the clustering crowds, the endless lines, and the insane battles for the hottest exclusives, the rarest of autographs, and the sweetest of swag! Between meeting your favorite comic creators and dressing up like a Venture Brother, you also have to eat, sleep, and (if there's time) party! With so much to do and so many people to meet and/or avoid, it would be nice to have a handy little tool to help you cleave your way through the masses…
Geek (and geeks in training), I'd like to introduce you to The Unauthorized San Diego Comic-Con Survival Guide. Cobbled together from veteran attendee insights from around the globe and my own personal experiences, the SDCC Survival Guide is the must-have book for the newbie or anyone trying to get ahead of the crowd and make their experience at this years San Diego Comic-Con the best one yet!
Even if you've never been to San Diego Comic-Con (and intend to stay far away from it for as long as you can), this book provides a unique insight into what attendees must go through in order to enjoy the Biggest Geekfest on Earth to its fullest. San Diego Comic-Con is more than just a comic book convention (as some have complained); it's a pop culture phenomenon bringing fans, celebrities, and media from around the world to experience this one of a kind event. The San Diego Comic-Con Survival Guide gives the reader an idea of what the common man (or woman) must face in order to survive this massive 4 1/2 day event.

The San Diego Comic-Con Survival Guide includes tips on all facets of the event…
BEFORE THE SHOW:
Planning your trip
How to pack efficiently and for every eventuality
Scoring the best lodging or making the most of bad lodging
Transportation options (planes, trains, and automobiles)
AT THE SHOW:
When to get in line for that Hall H panel (or any other room's panels)
Parking – picking the best location for the lowest prices!
Best time to score sweetest swag
Knowing when and where to get the best deals from the hundreds of vendors in the exhibition hall
Creating a workable schedule (with backup plans) that helps you see as much as possible
Finding the best places to re-stock your line-up supplies (without going broke)
Get into the best Comic-Con exclusive after hours events
Taking care of yourself (manage stress, exhaustion, and potential late-onset agoraphobia)
Asking interesting and fun Q&A panel questions (how not to kill a panel)
AFTER THE SHOW:
Packing and prepping everything for the trip home
What to do when it's all over – prepare for next year!
…AND SO MUCH MORE!
The Unauthorized San Diego Comic-Con Survival Guide is a perfectly pocket-sized 3 1/2 x 5 inch book packed with facts, insights, and tips on how to make Comic-Con the best week of your life! It's perfect for the Comic-Con newbie or the attendee that's been going for years, but is looking for ways to improve his or her experience. Sure, lots of people can offer random advice online, but this book compiles it all in one easy-to-carry compendium of Comic-Con common sense!