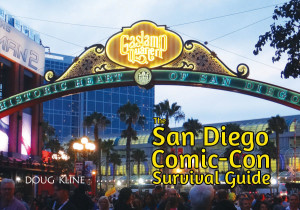 The brand new and updated San Diego Comic-Con Survival Guide 2014 is available now for PRE-ORDER!
Order the PRINT edition of the 2014
San Diego Comic-Con Survival Guide now!
By clicking ADD TO CART, you will be taken to a secure Paypal checkout page, which will allow you to select the quantity of books and calculate shipping within the US, Canada, Europe, and nearly any place in the world. Paypal and all major credit cards accepted. Limit 4 books per shipment.


If you're interested in buying a large number of books in bulk, please contact us directly for pricing options.
Follow the SDCC Survival Guide on Facebook, Twitter, or Google+ for the latest updates (or just follow/add/like us using the links to the right).
About the original edition of the San Diego Comic-Con Survival Guide…
The original first edition Unauthorized San Diego Comic-Con Survival Guide is no longer available for purchase or download.
If you'd like to become involved in supporting or partnering to promote the SDCC Survival Guide in 2014, you can directly contact me here. Watch for big changes very soon!