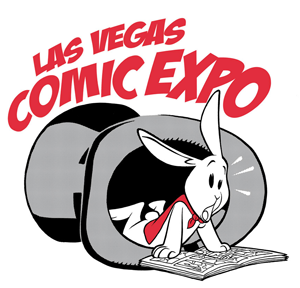 I'll be making an appearance at the Las Vegas Comic Expo this weekend, selling off the final few copies of Unauthorized SDCC Survival Guide while also hyping the magazine I work for, Geek Magazine. I'll have all sorts of Geek swag to give away, so even if you already have the book, swing by and say hi and you could walk away with a magnet, a copy of Geek, or the very awesome, very limited Starship Smackdown posters that were originally available only at San Diego Comic-Con 2012.
You can find me at booth #412 in the center of the room. And if you've ever seen me at a convention before, once again I'll also have my pals from Spaceboy Studios hanging out and hawking their cool art. Luis has some amazing new art prints he's never made available before this show.
For more information on the show, including tickets, hotel reservations, and a massive guest list that includes Tricia Helfer (Battlestar Galactica), Thomas Jane (Punisher), Mike Mignola (Hellboy), Bob Layton (Iron Man), Scott Lobdell (Teen Titans), and 100 more amazing comic creators, go to lasvegascomicexpo.com.
The show takes place Saturday and Sunday, September 29-30 at the Riviera Hotel and Casino, right on the strip. Tickets are only $25 per day or $40 for the weekend. There are also VIP packages for $150 that include a ton of exclusive items that you can get anywhere else.