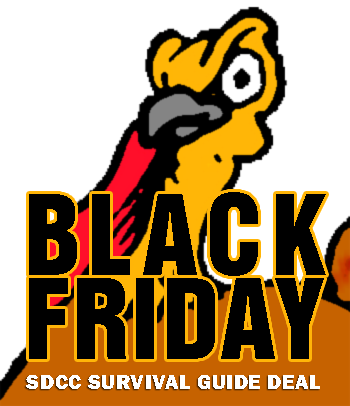 Here's your chance to get the last remaining 1st edition copies of the San Diego Comic-Con Survival Guide for you and your friends!
Buy 2 or more and get them shipped anywhere in the US and Canada for FREE! And it's only $3 shipping to anywhere else in the world!
Please use the appropriate purchasing button or your order may be cancelled.
Orders will be filled in the order they are received. In the event we sell out prior to your purchase, we will attempt to fulfill the order as quickly as possible or you will receive a full refund.
* Only use the special buttons provided at the designated time to get the shipping discount. If you want to purchase a large quantity of books larger than 4 at a time, just contact me through the contact page and I'll send you a special link with the discounted shipping!
And if you BUY IN BULK, you may qualify for additional special discounts. Again, contact me for any special requests!
The deal will be good from Friday, November 25th at Midnight US Eastern time through Cyber Monday evening, November 28th at 11:59pm US PACIFIC time.
US and CANADA – $4.99 each + FREE shipping! – No maximum
Select a quantity and click BUY NOW.
INTERNATIONAL – $4.99 each + $3 shipping (outside of the US and CANADA) – No maximum
Select a quantity and click BUY NOW.