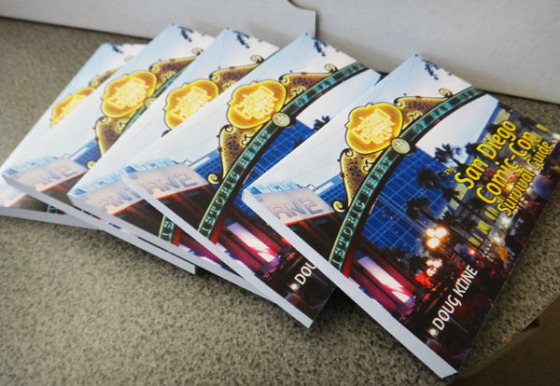 Why fight the insane crowds and traffic? Until there's a definitive book on how to survive Black Friday, it's best to do your shopping online. So why not start right here?
Now through Tuesday, December 2nd at 12:01am, you can get the digital ebook edition of the San Diego Comic-Con Survival Guide for FREE when you purchase the print edition for $6.99. It's the same sale I did back during the pre-purchase phase. It was so popular, I had to bring it back, just in time for holiday shopping season. Once the purchase is made, you'll be sent a specific one time use promo code on Tuesday to download the digital edition for free. Just click the button below to buy!
Thanks again to everyone who has already bought the book and has been so supportive over the last few years. I hope everyone has a happy holiday season and gives at least as much or as more as they get.
Buy the PRINT edition of the 2014
San Diego Comic-Con Survival Guide now and get the ebook edition FREE for a limited time only!
By clicking ADD TO CART, you will be taken to a secure Paypal checkout page, which will allow you to select the quantity of books and calculate shipping within the US, Canada, Europe, and nearly any place in the world. Paypal and all major credit cards accepted. Limit 4 books per shipment.
No matter when you buy the print book, please order by December 12th to guarantee arrival before Christmas, especially if you are outside the US.

Of course, if you're just interested in the ebook edition, you can still pick that up here for only $4.99, along with 2 more FREE downloads!