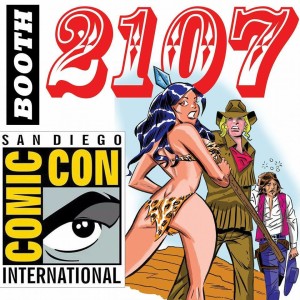 Finally confirmed! My good pals at Ninth Circle Studios are giving me a bit of space on their table to sell copies of the San Diego Comic-Con Survival Guide! They sell the amazing indie time traveling cowboy action adventure yarn Guns A-Blazin' and are just generally great folks to meet. Let me repeat:
Get the SDCC Survival Guide print edition at booth #2107 at San Diego Comic-Con 2014!
In fact, I highly encourage you to pick up their Comic-Con exclusive variant cover comic or one of their other comics at their booth. If you buy one of their books, I've told them to give you the SDCC Survival Guide for only $5 each! Otherwise, the price is just $7 for the Survival Guide. Either way, Mike and Rafael are guys you want to meet. Mike especially is always eager to talk about anything geeky.
You can find their booth across the aisle from the Comicraft/Elephantmen booth in the IP Pavilion and very close to the DC Comics booth. If you enter either hall through the lobby doors for hall B2 or C, they're really easy to find. Or you can just click on this map for a larger version… (yellow circle with the red outline is what you're looking for)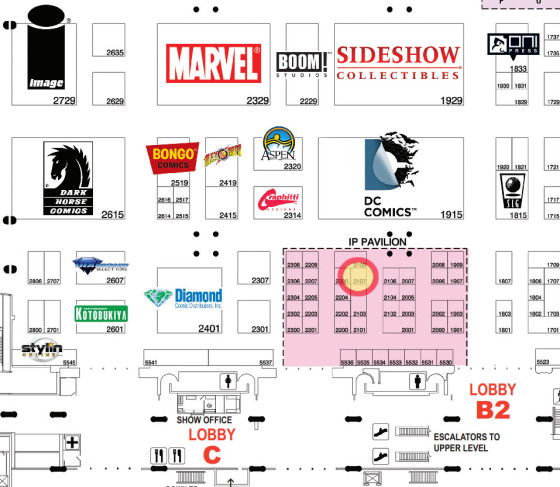 The guys will be at the table every day from Wednesday through Sunday. I will pop by every so often to say hi and hang out. If you want to meet me, just follow me on Twitter at @douglaskline or @SDCCsurvival and I'll try to post when I plan to visit the table throughout the week so you can hunt me down. The only day I might not visit the booth is Saturday since I'll probably be stuck in Hall H (if I can get in). And if you happen to see me on the street or in the hall, say hi. I don't bite unless threatened and cornered by a larger animal.