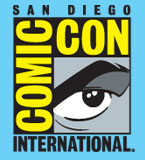 Comic-Con newbies, if you haven't already gotten your tickets to San Diego Comic-Con 2014 AND you haven't gotten your notification email regarding the on-sale tomorrow morning, I've got some bad news for you. It's too late. Of course, you should probably also check your spam folder in the event that you did create a Member ID and actually did receive the all-important email. But for those of you who thought that you could keep putting off creating a Member ID, that day has passed.
Starting at 7am Pacific Time on Saturday, March 15th, those with a Member ID and a registration code (received by email earlier this week) will be allowed to start logging in. But, as they stress repeatedly in their communications, there is no need to rush the site exactly at that moment. As long as you log in anytime between 7am and 9am, you are good. But at 9am, that's when they start randomly giving people access to the site so that they may register for Comic-Con.
One thing to note, if you're a press attendee like myself, this is not your time to register, even if you got a registration code. Comic-Con International sent a follow up email to dispel such confusion.
But for the rest of you who did not get the chance to go to Comic-Con last year, tomorrow is the big day. It will be brutal, but hopefully the site won't crash under the weight of your attack. I wish I could give you some kind of secret sneaky way to guarantee that you'll get tickets for all the days you want, but my best advice is only that you should follow the instructions Comic-Con International has provided to give you the best possible chance at getting you everything you want.
Many of you will slide through the process with ease and get everything you wanted. Others will walk away gravely disappointed. I know the folks at Comic-Con would love for everyone to experience their biggest event of the year, but it's not just possible. But they are doing what they can to give you the best possible chance to get there. Be vigilant and good luck! Also, beware the Ides of March!
Hope to see you at San Diego Comic-Con International 2014!
Image: Comic-Con International